Make your presentation 22 times more memorable
Making a research poster is a great opportunity to present your latest results while connecting with other attendees at an event or academic conference. However, there's a key difference between simply showing the information found, and telling a story through data.
We are 22 times more likely to remember a fact when it is told through a story. Using creativity and storytelling strategies in your poster can make a huge impact in terms of engagement and allow you to get your message across in a fun and effective way. Read on to discover our top tips and tricks to make people remember your poster by becoming a master narrator.
Get clear on your core messaging
If people only take away one thing from your poster, what do you want it to be? Storytellers know how to focus in on the main point - the why - of their narrative.
Keep your poster clean, simple, and focus it on the one thing you want your audience to take away from your research. Don't create a poster that is text-heavy and difficult to read. Once you've defined your core message, it will also become easier to identify what makes your work unique and why people should pay attention to it. If there is a particularly interesting finding that encapsulates your work, think about how you can present it visually in a way that will catch your audience's eye. What was innovative about the way you collected your research and how can you highlight it through images and graphics? Above all, research posters are a method of scientific communication and the best way to ensure you're communicating effectively is to first figure out what you're trying to convey.
Keep your audience in mind
Once you've identified the key information that you want to communicate to your audience, your next step should be to find out exactly who your audience is. Who will view your poster depends heavily on who will be attending the event you submit it to, so use your research skills and investigate! Take a look at the conference organizer's website and explore what kind of people and industries the event is marketed towards. Make a habit of looking up the conference hashtag on social media platforms like Twitter and LinkedIn to learn about what individuals will be attending the meeting and their professional background.
By learning about attendees beforehand, you can decide how accessible your poster needs to be for viewers to engage with it at the level you desire. Avoid academic jargon (or at the very least, define it) within your poster so that members of the general public who view it can have a better understanding of your work. In this poster presented through the XVI European Congress of Psychology, for instance, the term 'schizotypy' and how it differs from the more widely-recognized condition, 'schizophrenia' is defined in the background section. This way, a viewer can learn about the meaning of important content before diving into all of the data and information.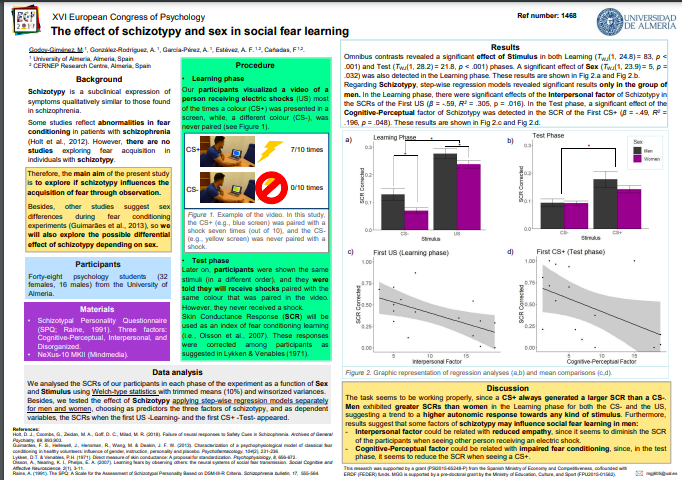 As you can also see in this poster, key terms along with the study's objective, and other crucial information, are written in bold. This works to emphasize the aim of the research and what the researchers want audiences to take away. Practice these habits and present your poster to a friend or family member. See what sticks with them, and edit your poster accordingly.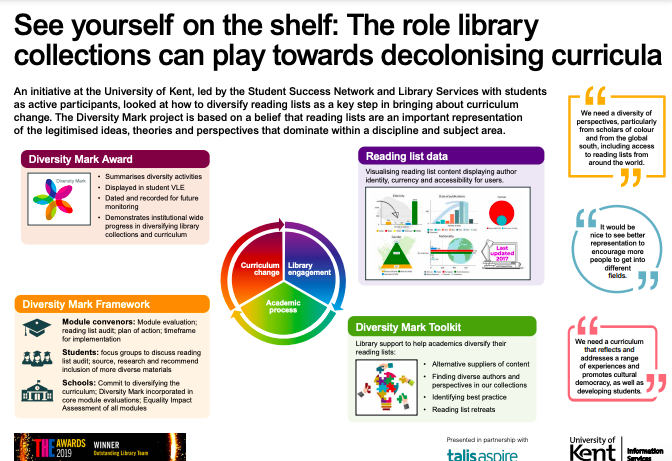 Become a visual storyteller
How can visual tools help you convey your research in an engaging way?
Start by allowing each section to flow into the next, using consecutively ordered text boxes with headings that correspond to each segment. In the above poster, different text boxes are filled with various bright colors, allowing readers to differentiate between all the distinct stages of the research process. However, the background behind these text boxes remains white. The use of these contrasting colors allow the significant elements of the research to stand out. Ensuring that your poster is aesthetically pleasing is a crucial step to gaining wider visibility. Think of all the times that you've glanced over dull and monochrome designs in your daily life in favor of something more eye-catching. Be sure to include relevant images that relate to your work as it progresses through each stage. If there is a table filled with data, think about how you can deliver this information in a graph or chart. No one wants to try and understand a crowded or unreadable poster, so take some time to learn about user experience and design theory. Mike Morrison's YouTube videos are a great place to start.
Embrace digital forward approaches
Depending on conference restrictions, you may also be able to include interactive media in your research poster, such as audio or video files. Adding a brief voiceover or a quick video clip of you sitting at your desk explaining a section, can add a vital personal touch to your poster. One of the most important parts of a conference is the networking, so think of your poster as an opportunity to encourage people to reach out to talk about your work! These digital tactics also free up space within your poster, allowing you to also convey things orally that may not fit on the slides. Check out our blog for more tips on creating virtual posters as well as presenting them.
Tell the full story of your research
While an effective storyteller aims to be concise, this doesn't mean you should pick and choose which elements of the full picture to include in your tale. Think about including ups and downs, mistakes made, and lessons learned along the way as you conducted your study. These elements of the research process are just as important as the final outcome, and describing these twists and turns may help to keep your audience absorbed in the story of your investigation. By including these details, your poster can follow the structure of a traditional narrative plot, with a hook, intro, climax, and resolution, and you can stand out and make sure people remember your research.
When preparing for your next conference, keep these key points in mind! A huge part of the way attendees receive and engage with the work you present has to do with the way you convey your message rather than the information itself. Take a moment to browse the Morressier conference repositories for some inspiration when it comes to designing your next poster.
You can also download our eBook, The Future of Scientific Conferences is Hybrid, to get our take on the future of research collaboration.